Jerry Mentzer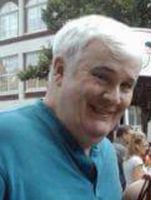 April 2014
JERRY MENTZER Bio
For many years, Jerry Mentzer balanced his career as a Mechanical Engineer and Engineering Manager with the demands of also being an active writer of magic books and operating the magic supply company, he founded in 1969, Magic Methods.
Jerry Mentzer grew up on a farm in eastern Ohio near a small town appropriately named Mt. Pleasant. Back in colonial days, Mt. Pleasant and a second nearby town named Smithfield were early centers of the pork packing and processing industry in the Northwest Territory before Ohio became a state. Neither town ever grew much beyond village status though both towns boasted highschools and today are very pleasant residential communities.
Jerry's father died when Jerry was ten years old. Fortunately, he was an avid student and pursued his education and did well in school. Among other interests, a passion for magic developed and he read every book on magic available in several nearby libraries. The first magic show he attended was a banquet show by Paul Semple, one of the very early founding members of the International Brotherhood of Magicians. Semple saw that Jerry quickly joined the IBM as a Jr. Member. Soon thereafter Jerry saw the stage show of Ohio based "Birch the Magician" at Martins Ferry High School. Macdonald Birch was a polished stage magician who performed a good stage show he carried from town to town in a large trailer from his Ohio base. Mac was most gracious when Jerry came backstage to meet him after his show. Birch and his wife, Mabel Sperry, continued their friendship with Jerry after that at many magician's gatherings, banquets, conventions and such.
The I.B.M. monthly magazine, "The Linking Ring," kept Jerry's interest fired and over the next several years he learned many tricks and built numerous pieces of magic apparatus, most of which were described by Billy Russell in the magazine. Then there was the very difficult to build, Larrick's Rabbit Box The box was difficult to build and even more difficult to paint, but it turned out to work perfectly. However, as his experience in magic grew, Jerry became less interested in apparatus magic and he eventually traded away or sold the early efforts. Years later at a convention contest show, one contestant did a routine that involved the very same Larrick's Rabbit Box that Jerry built!!
After high school, Jerry attended The Ohio State University and earned a degree in Mechanical Engineering. Columbus magicians, Frank Starineri, Nick Trost, and Al Thatcher all greatly added to Jerry's magical knowledge and propelled him toward a greater interest in card magic. Columbus' Bill Baugus taught Jerry the basics of fire-eating and even though Jerry easily mastered the basics of fire, he never performed this "geek" specialty. But then again Jerry had also learned a perfectly good "Zombie" ball routine which he never performed either!
Then several years later while employed full-time in Fostoria, Ohio Jerry studied nights at Bowling Green University for a Master's Degree in Business Administration with majors in Marketing and Finance. A job transfer to Cleveland Ohio followed. Plus another batch of fine local magicians; Roger Davilla, Dick Cook, Bill Weldon, Mike Boden-a really clever "fooler", and others. During a couple of Christmas seasons, Johnny Thompson performed his dove act several times a day at one of the large department stores in Cleveland, and the opportunity to socialize and "session" with Johnny during off-hours when he was not working was a welcome experience. The opportunity to get to know John Thompson was a true highlight in Jerry's magical education. Cleveland was reasonably close to three Union Carbide plants in Niagara Falls, New York and part of Jerry's assignment was to assist with manufacturing equipment problems at those plants. And Niagara Falls is on the trail to Buffalo. And in Buffalo is the Forks Hotel at that time owned by Eddie Fechter, and as most magicians know, Eddie was one of the great close-up entertainers in magic, so stopovers to see Eddie always were involved in a visit to one of the Niagara Falls production plants. And around Eddie was one of the biggest bunches of top close up magicians in the country, including Lou Gallo and Mike Gallo, Karl Norman, Vic Trabucco, Bill Miesel, Bob King, Ray Mertz, Bill Okal, Brian Gillis,and occasional visitors from Eastern New York, Ed Eckl and Ron Zollweg. From a bit further afield, Pittsburg's Paul Gertner would visit. These guys would drive for hours to work for free! Talk about dedication!
Nearly every night Eddie Fechter would be in the bar room either at the bar performing magic for a few customers or at a table in the bar area. Most weekday nights Eddie was the only magician. But on Friday and Saturday evenings, lots of local magicians would be at the bar to perform for the many tables of patrons there for a drink or for the popular Friday night "fish fry". And for sure to see Eddie Fechter!. The other local magicians provided magic when Eddie, the chief magician, was busy performing at another table. Magic at the Forks Hotel was an experience not seen at other locations in the country. Jerry's urge to write a book on card magic led to the publication in 1972 of the hardbound book, Card Cavalcade. The book's success in attracting lots of interest not to mention twenty dollar bills to Jerry's mailbox resulted in further efforts at book writing. One interesting fact about Card Cavalcade concerns the illustration of an armored knight on the front cover of the book and different illustrations of medieval knights on the heading pages of some book chapters. These illustrations are reduced-size copies of "charcoal rubbings" from actual graves of medieval knights.
Jerry's daughters Marykay and Barbara recall one time when the entire family was involved in assembling a book with plastic comb binding. Everyone was busy marching around the dining room table picking up one printed sheet from each of the stacks of pages lying on the table. Over and over again until the printed pages had all been neatly arranged into stacks all in proper page sequence and then securely bound. The success of his early efforts to produce saleable books led to more books and non-book magic items to sell. The book Counts, Cuts, Moves and Subtlety which Jerry published in 1977. as a one-stop resource for the packet, trick knowledge was an instant hit among magicians and has been re-printed fifteen times and has sold over fifty thousand copies! Jerry's job as an engineering professional next led to a transfer to Union Carbide's plant located in Greenville South Carolina. The plant was rapidly growing in the field of carbon fiber production and development. Very interesting products-just the raw fiber finished carbon fiber, and later pre-preg fiber. These were supplied to end-users companies who manufactured products ranging from tennis rackets, fishing poles and snow skis to the most exotic sort of components for airplanes, rocket parts, and other high tech equipment. Magicians in the Greenville area included Rhett Bryson, John Murray, Marty Shapiro, and a young fellow by the name of Eddy Wade who is now fully in charge of the Magic Methods business. Atlanta was only a two-hour drive from Greenville and a lot of visits and conventions saw friendships develop with Rick Johnsson, John Miller, Tom Mullica, Curtis Jackson, Doty, Jim, and Diane Maney and Frank and Gerry Furkey among many others. On his first visit to Atlanta, John Miller made sure he was properly nourished by a visit to "The Varsity" and at another time, John supervised Jerry's first encounter with a Chick-Fil-Et. Sandwich.
When Jerry decided to leave his 22-year engineering career, he was able to nicely survive on the magic mail-order business as well as proceeds from a number of lecture tours. During one string of lectures done through the Midwestern United States, there were numerous successful lectures. But two days prior to a Sunday afternoon lecture in Des Moines Iowa both Jerry and the local lecture organizer realized that that lecture was scheduled for the afternoon of Mother's Day! Since the lecture was scheduled months before, they decided to go ahead with it anyhow, realizing attendance might be a casualty. But there was a big turnout! Maybe lots of guys want to get out of the house on Mother's Day afternoon. As a matter of fact, after the lecture, a bunch of guys organized a group visit to a local gentlemen's club, if you get the picture.
After many years of magic conventions and dealer displays, and some added age physical difficulty with knees and one hip, Jerry no longer had the incentive nor physical ability to pack large cartons and crates full of books and other magic stuff into the car and go driving off to conventions. Then after two or three days displaying the latest and greatest, to schlep the remainder back to the warehouse. As of this month-end Jerry retired from both activities and turned over the operation and custody of Magic Methods to a long-time magician and friend Eddy Wade.
Products by Jerry Mentzer