Eddy Wade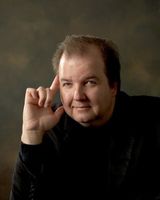 Eddy Wade has been performing the art of magic professionally for over 35 years. He was "Billed" in his early years of youth as "Edwardo' Boy Magician." His magical education began at the age of six when his Dad showed him his first magic trick, where a coin Eddy marked his initials on with a crayon, vanished by his Dad and reappeared inside a box, wrapped with several rubber bands, within another box, also wrapped with several bands, to then be found inside a small bag tied shut. That amazing feat started Eddy on his journey for the magical secret as to how his dad had fooled him. Eddy began to check out and read every book on magic the local library had and along the way learned dozens of magic tricks to fool his friends.
His work in magic has taken him to every state in the country, except two. Where he added his magical touch to the many trade and industrial shows he attended for various companies. He has performed in Canada, Mexico, the Caribbean. He toured with "The World Of Fantasy Players", performed on cruise ships, on a moving train and in an airplane.
Eddy has been showcased and interviewed on television, the first being at age eleven on the Columbia, SC - WISTV show "Mr. Knowzit". Dozens of other TV & radio appearances followed. Newspaper and magazine articles both locally and nationally and he has actually performed magic on the radio while he was the "Official Magician" of Magic 96.1 Radio station for three years.
He has acted as consultant on several theatrical plays, where he either taught or performed magic for their productions and created special magic effects. Eddy consulted on two motion pictures along with several television commercials.
Eddy is a very versatile performer; he is able to adapt to any possible stage setting or audience make-up. That is why companies like Apple Computer, Bank of America, General Electric, AT&T / Bell-South, have utilized his talents and ideas.
Eddy has taught his craft at the University of South Carolina at Union campus, Queens University in Charlotte, NC, along with many other parks and recreation departments and various other venues. As well as many magicians' groups round the country where Eddy has shared his special secrets with fellow conjures.
As a respected marketing "guru" & special effect expert, Eddy has presented lectures at many various conventions as diverse as "The Special Event" for professional event planners, "The National Halloween Show", in Chicago, "The National Costumers Associations" annual convention of costume shop owners, "The Balloon University" for balloon decorators and The N.C. League of Credit Bureaus.
Eddy has served three terms as President of the local affiliate club of The International Brotherhood of Magicians as well as two terms as President of the local Society of American Magicians. Eddy was also elected and served as Territorial Vice President for The International Brotherhood of Magicians.
Eddy also holds a rank of third degree black belt in Korean karate and taught that discipline at various colleges and martial arts schools for many years.